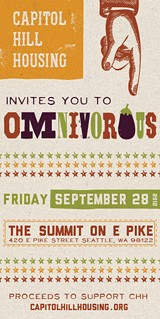 What:  Omnivorous Party for Capitol Hill Housing
When:  Friday September 28, 5pm to 10pm
Where:  The Summit, 420 East Pike
We hope you will join Cafe Presse in supporting the great work of Capitol Hill Housing by attending Omnivorous this September.   To use there own words:
Capitol Hill Housing builds vibrant and engaged communities through affordable housing and community development efforts in Seattle.
Omnivorous is an annual party that showcases the best restaurants, dessert makers, distillers and drink purveyors of Capitol Hill, showcasing their creations, all while raising vital funds for Capitol Hill Housing.  See you there!